Kieslect KR 2
Achat 100% sécurisé

Livraison à domicile

7 jours pour changer d'avis
Description
Kieslect Smart Calling Watch Kr2 Ultra Amoled double Strap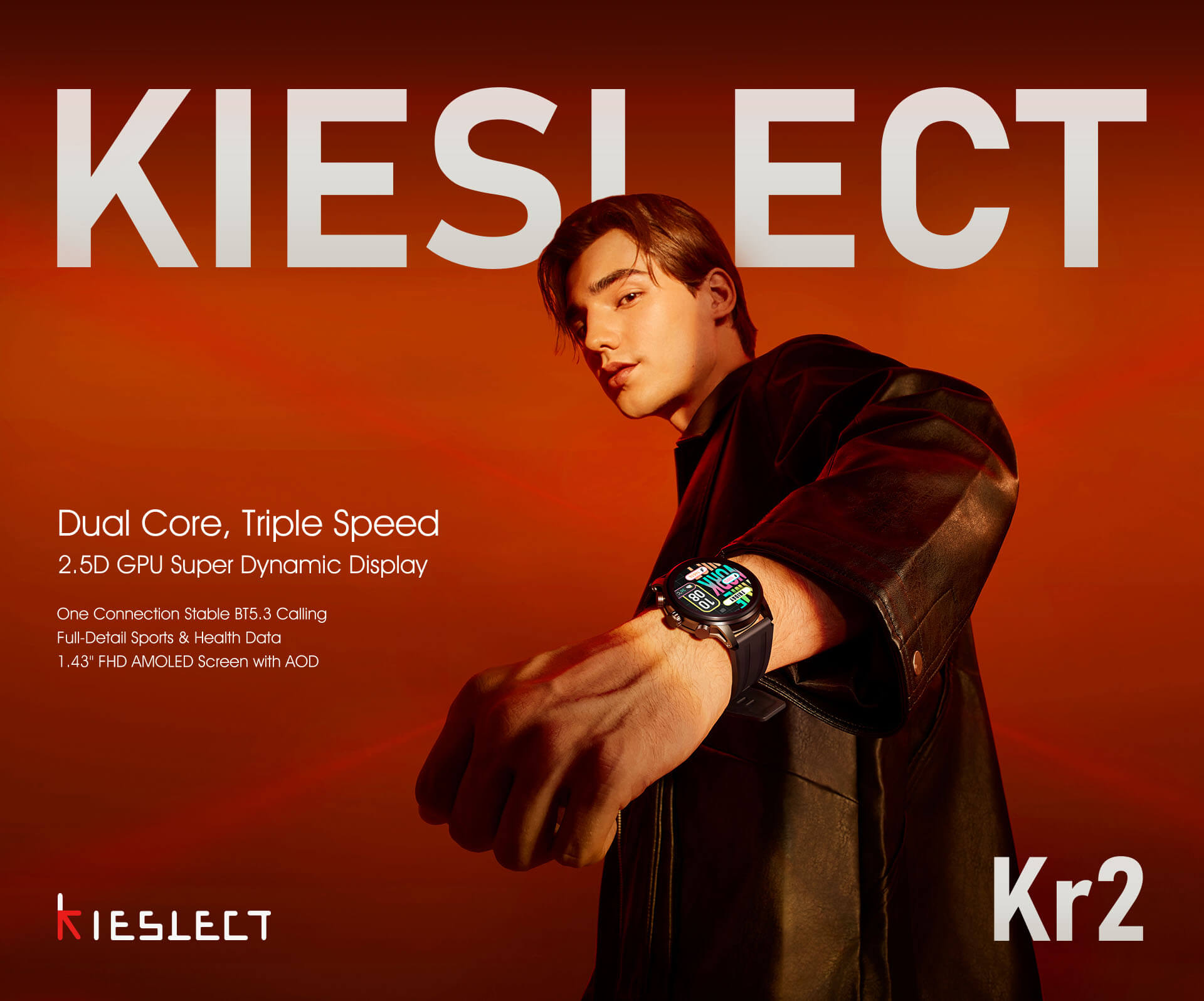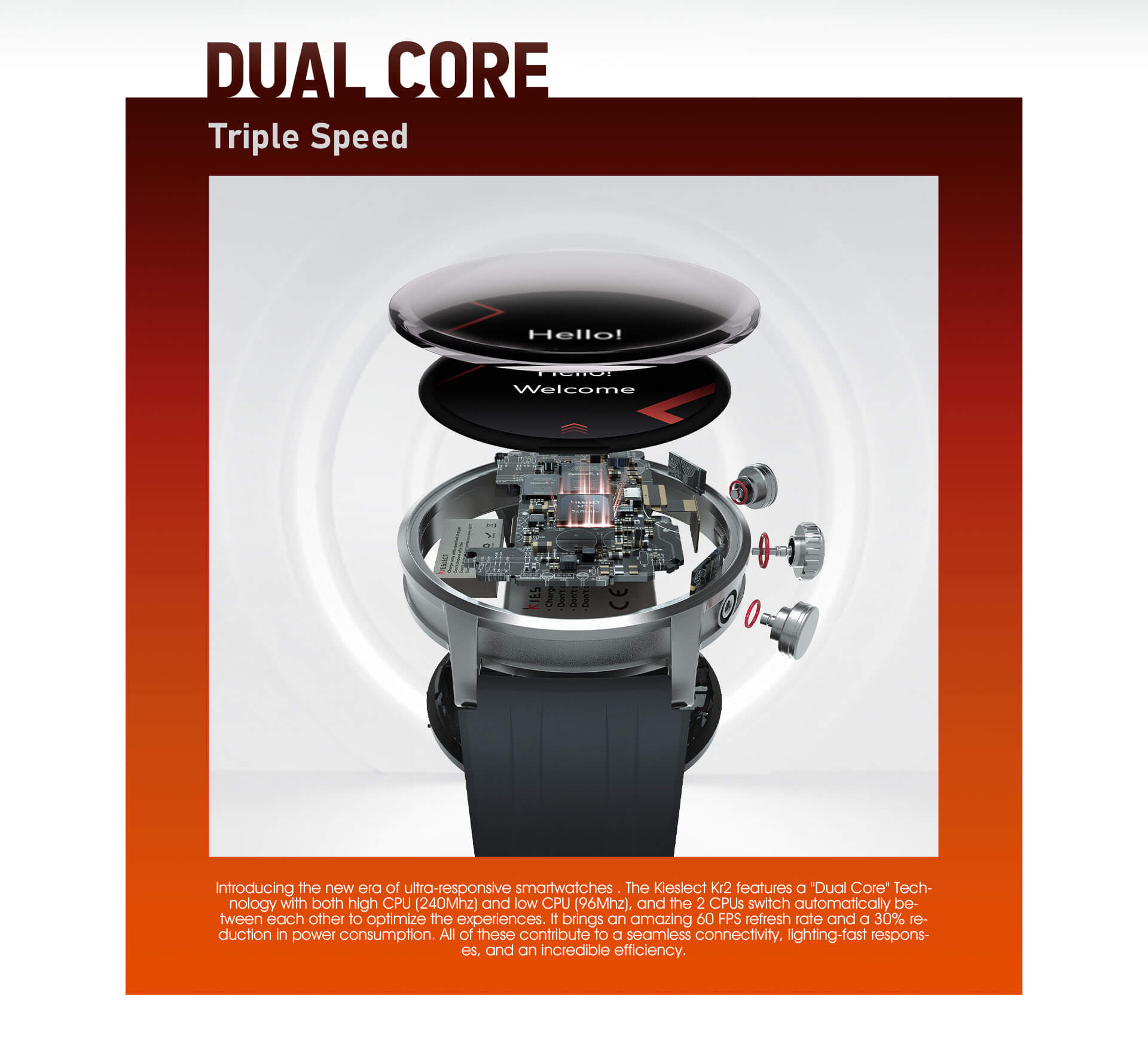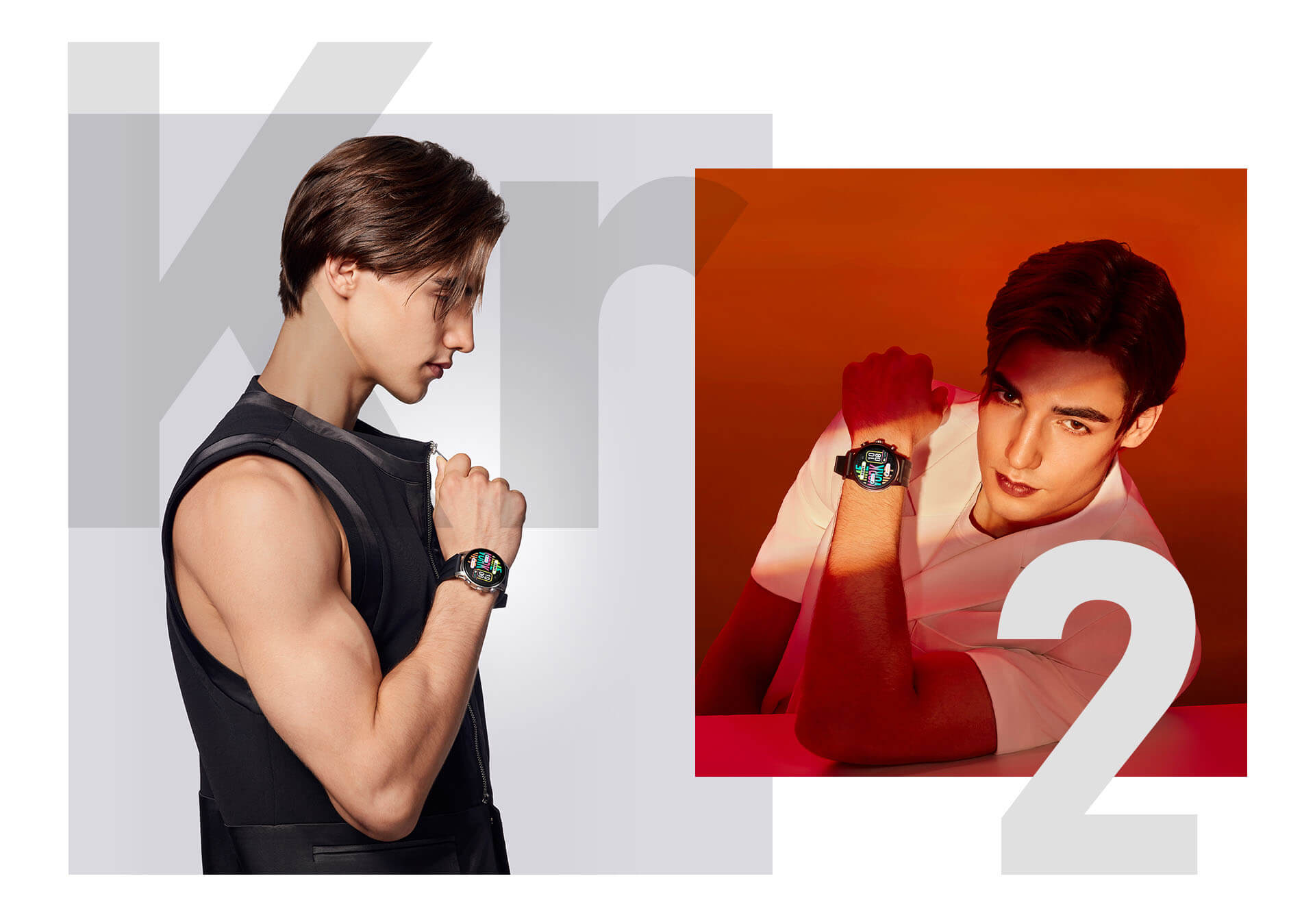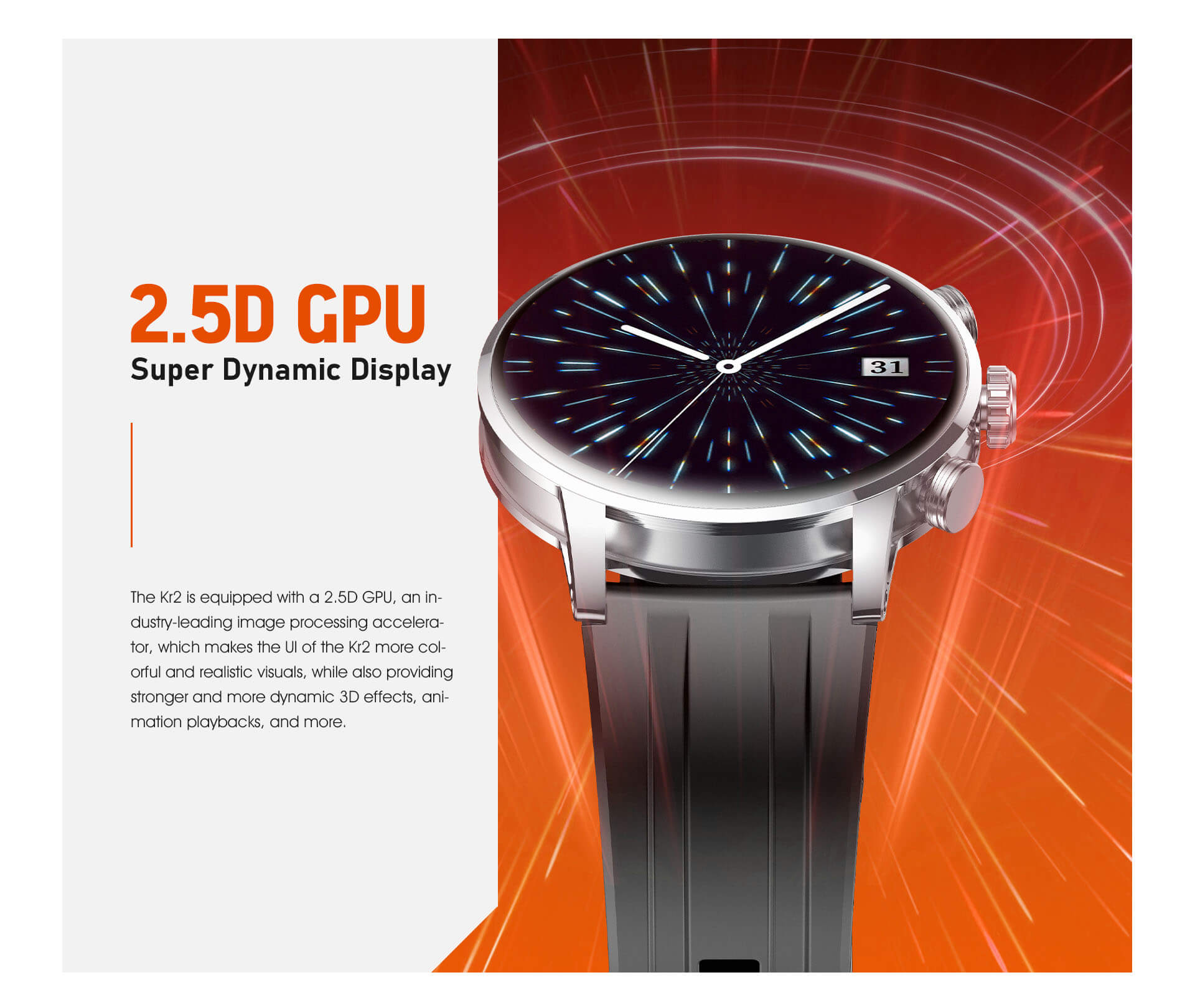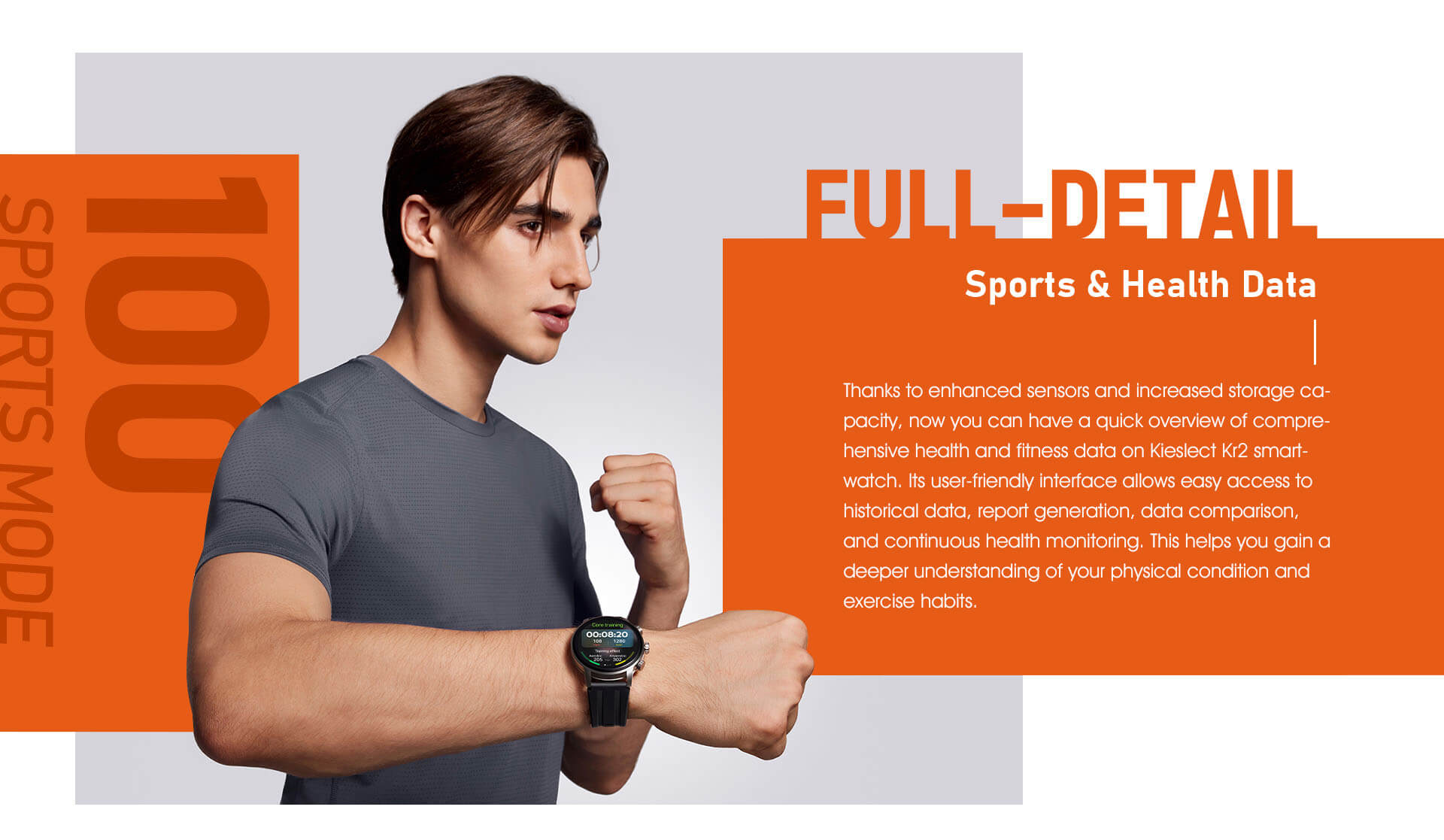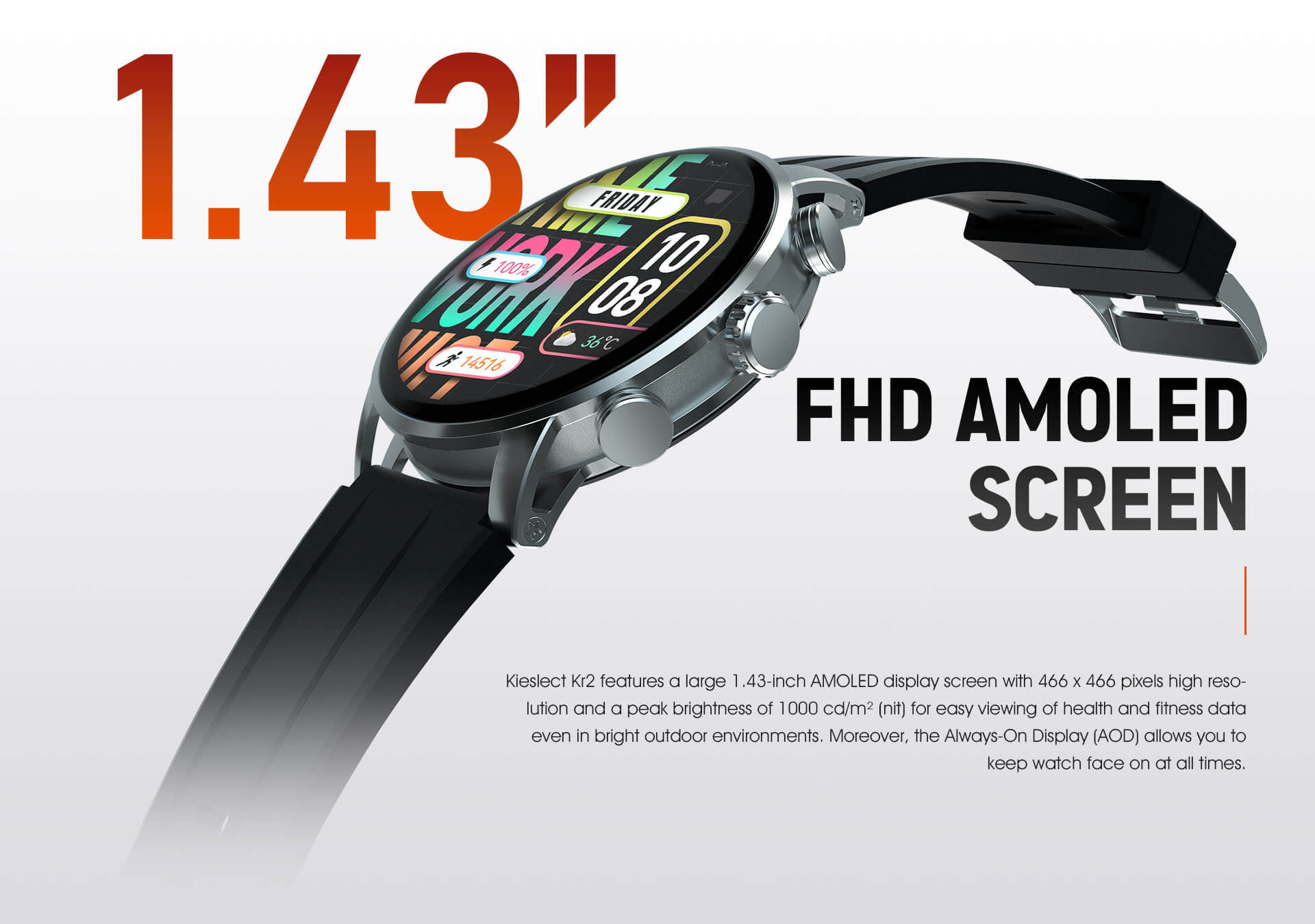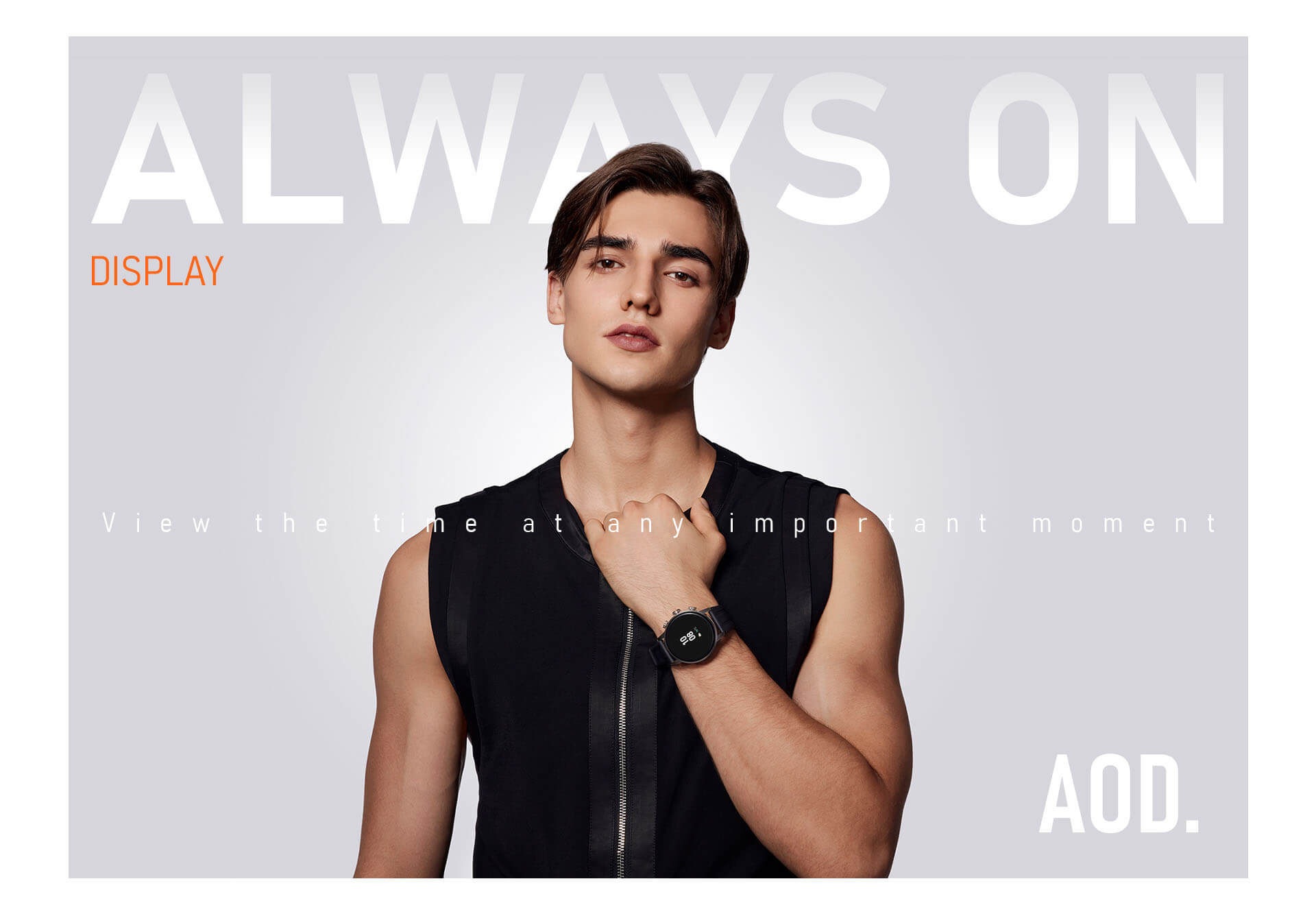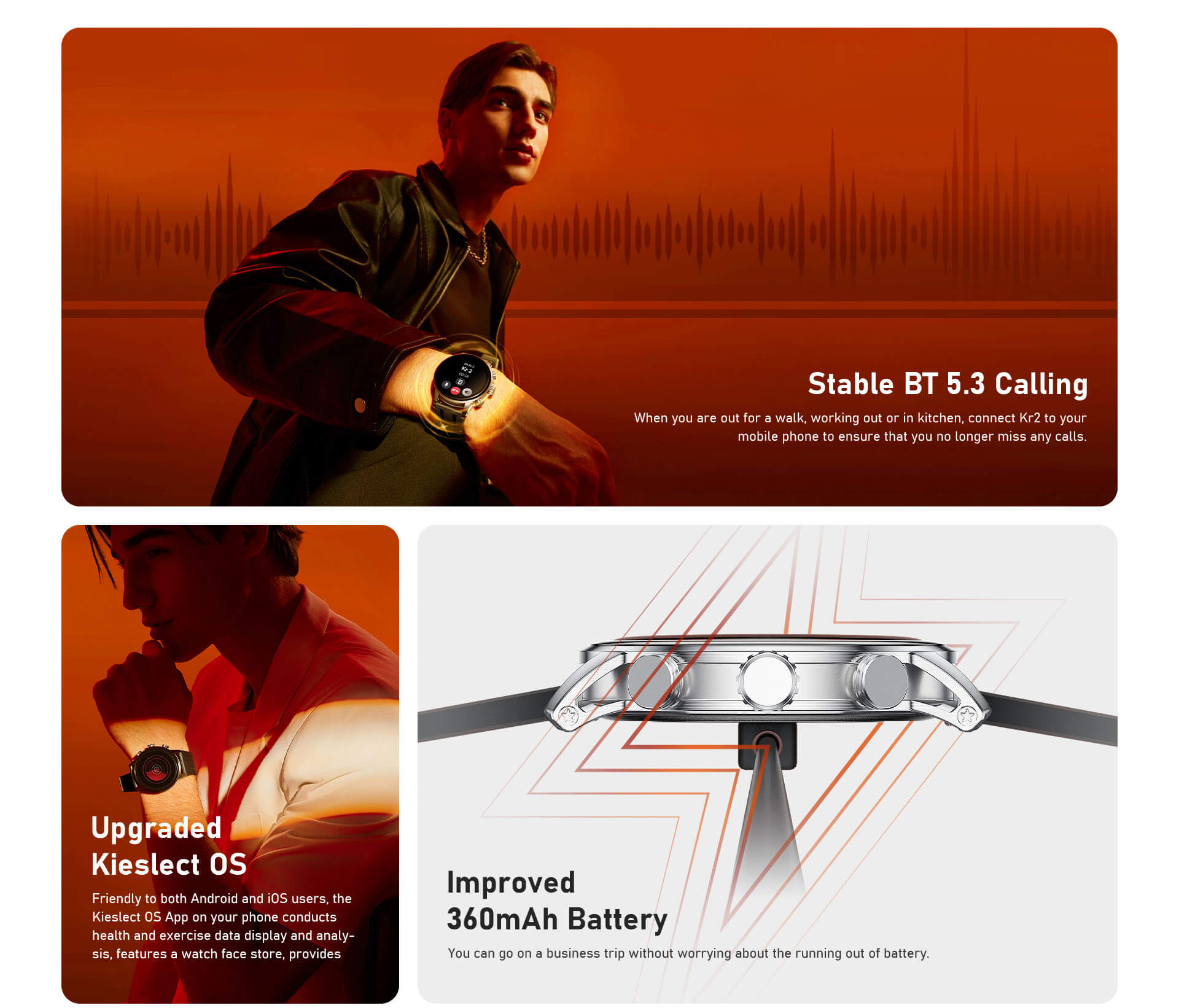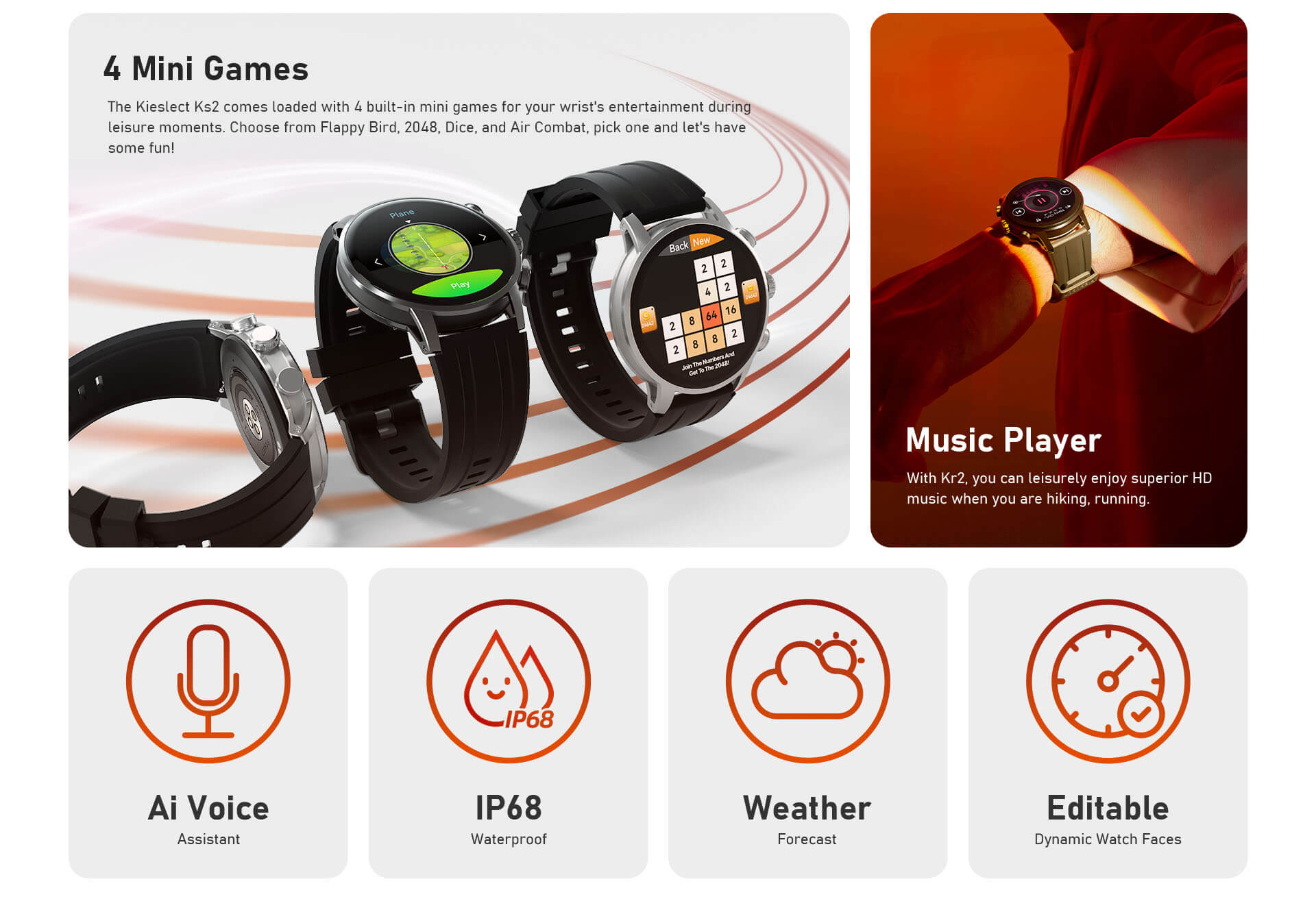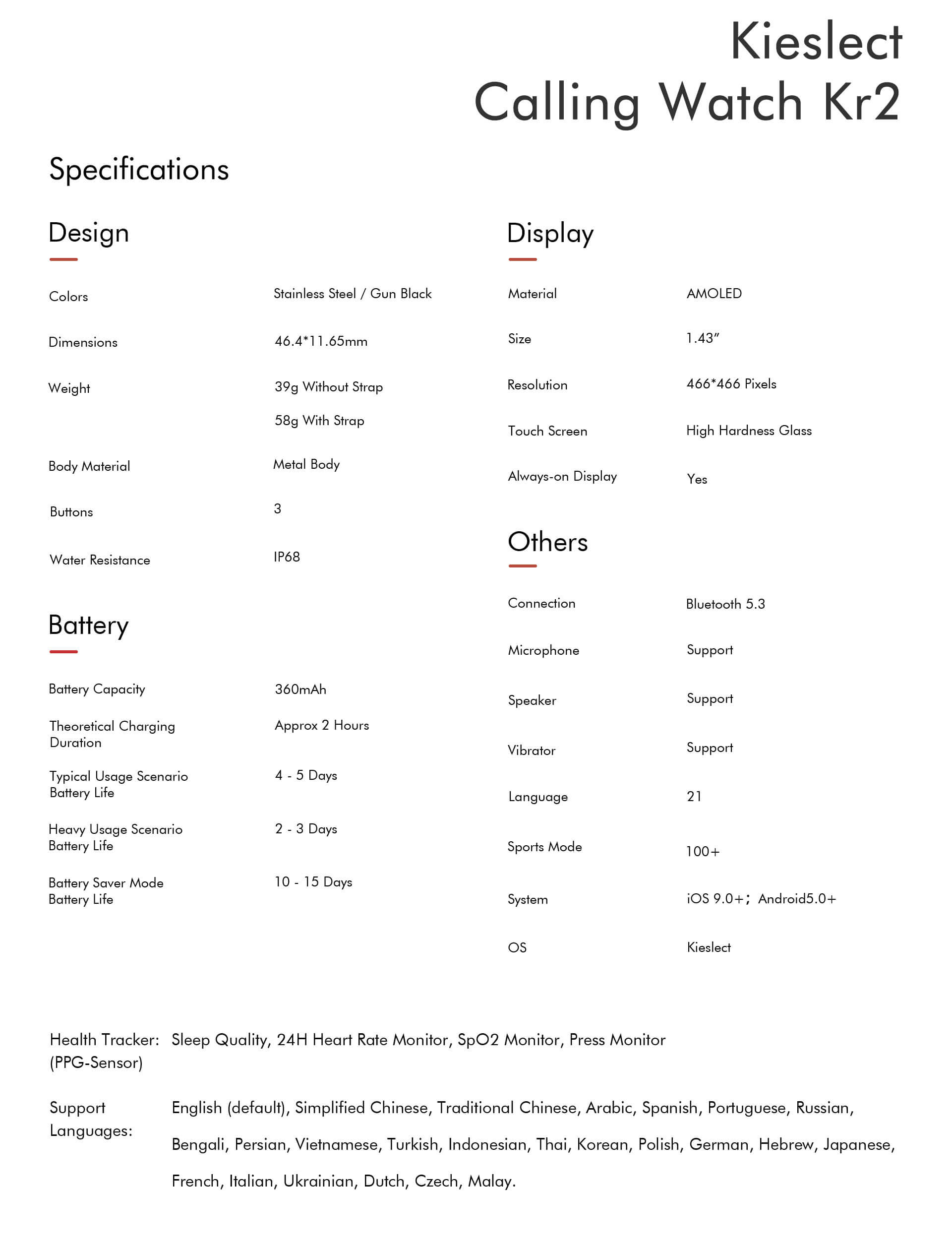 Dual Core, Triple Speed
Most smartwatches use a single CPU to power every operation, resulting in slow, laggy operation and high power consumption. The Kieslect Kr2 is the industry's leading "Dual Core" smartwatch that bring a superior, fluid operation and a longer-lasting battery, because life doesn't stop being recharged, and neither should your smartwatch.
Introducing the new era of ultra-responsive smartwatches . The Kieslect Kr2 features a "Dual Core" Technology with both high CPU (240Mhz) and low CPU (96Mhz), and the 2 CPUs switch automatically between each other to optimize the experiences. It brings an amazing 60 FPS refresh rate and a 30% reduction in power consumption. All of these contribute to a seamless connectivity, lighting-fast responses, and an incredible efficiency.
2.5D GPU Super Dynamic Display
The Kr2 is equipped with a 2.5D GPU, an industry-leading image processing accelerator, which makes the UI of the Kr2 more colorful and realistic visuals, while also providing stronger and more dynamic 3D effects, animation playbacks, and more.
Advanced Biometric Sensor
Featuring 2 ultra-bright 3-in-1 LEDs and 2 independent 60-mil large PD, the Kieslect Kr2 biometric sensor is capable of collecting 35% more data compared to our previous generation. When combined with Kieslect's sophisticated heart rate algorithm, it enhances heart rate monitoring accuracy by 40%.
24/7 Health Management
Sleep Monitoring
Heart Rate Beats
Blood Oxygen Saturation (SpO2)
Stress Test
Menstrual Reminder
The Easy Way to Live a Healthier Life
Get reminders for:
Heart Rate: <40 or >120
Blood Oxygen Saturation (SpO2): <85
Stress Test: >80
Comprehensive Sports & Health Data
Thanks to enhanced sensors and increased storage capacity, now you can have a quick overview of comprehensive health and fitness data on Kieslect Kr2 smartwatch. Its user-friendly interface allows easy access to historical data, report generation, data comparison, and continuous health monitoring. This helps you gain a deeper understanding of your physical condition and exercise habits.
One Step Pairing and Calls
Unlike other smartwatches with their complicated pairing processes, our 2-in-1 calling chipset and Bluetooth 5.3 simplify the connection process, offering you less hassle and a quicker connection for your always-on-the-go lifestyle.
Whether you're engaged in outdoor exercises, house chores, or cooking, you can always enjoy the convenience of viewing your call history, keeping up with personal contacts, and answering or rejecting calls on the watch.
Music Playback & Control
Use the Kieslect Kr2 to control music playback on your phone via Bluetooth connection and play it through the built-in speaker. Whenever you prefer to listen to your music, Kieslect Kr2 makes it easy to stay in control while you're on the move.
AI Voice
Once connecting your smartwatch and mobile phone via bluetooth, you can issue voice commands directly to the watch through your phone's built-in voice assistant, such as saying "Hey, Siri". This allows you to receive instant feedback on various requests, including weather updates, sports scores, directions, making phone calls, and much more!
1.43" FHD AMOLED Display with AOD
Kieslect Kr2 features a large 1.43-inch AMOLED display screen with 466 x 466 pixels high resolution and a peak brightness of 1000 cd/m² (nit) for easy viewing of health and fitness data even in bright outdoor environments. Moreover, the Always-On Display (AOD) allows you to keep watch face on at all times.
Dual Screen
The watch features a dual-screen design with a primary screen displaying the watch face and a customizable second screen that can show sports or health data at your choice. This dual-screen design allows for simultaneous display of multiple information, providing you convenience and efficiency in managing your daily activities.
3 Digital Crowns
With its 3 rotating digital crowns, the Kieslect Kr2 provides convenient and user-friendly functionality for all your requirements. You can effortlessly manage screen brightness, power on/off, swiftly access to the menu, and even customize default sport modes, among other features.
Editable Dynamic Watch Faces
Extra 100+ Watch Faces available in App
20+ Animated Watch Faces
5 Always-On Display Watch Faces
Upload your own pictures as the watch faces
Style Swap
Want to fit your daily style? Simply rotate the middle digital crown to select your watch face effortlessly.